December 31, 2009 After 30 Straight hours of negotiations with Pacific Coach Lines at the Labour Relations Board, the bargaining committee is unanimously recommending acceptance of the three year deal. Ratification meetings will be held next week.
December 29, 2009 CAW Serves 72 Hours Strike Notice to Pacific Coach Lines Press Release and Notice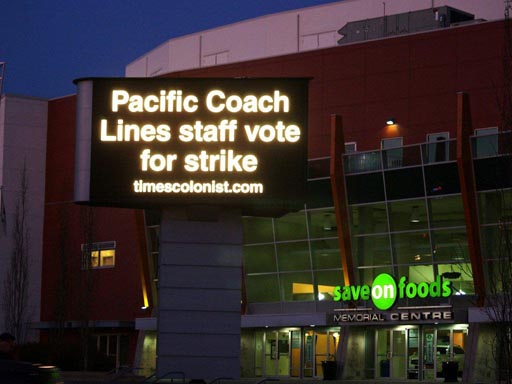 This appeared on the Save on Foods Memorial Center electronic sign December 1, 2009.

The Union has created a Facebook Support Page - Pacific Coach Lines Workers in Struggle Click Here to join.
PCL Workers and their supporters can now get important updates, read press releases, view photos, post comments and follow links on the Facebook PCL Workers in Struggle support page.
Receive Text Messages about PCL Workers on TWITTER
Twitter allows you to receive short automated text messages related to a person or subject. You can sign up to receive updates related to PCL bargaining sent straight to your cell phone as soon as they are posted.
Click on the link above to view the page and make sure to link your phone by clicking the green icon to receive the automatic updates.
November 30, 2009 Pacific Coach Line Workers Vote 91% in Favour of Strike Action