RECENT STORIES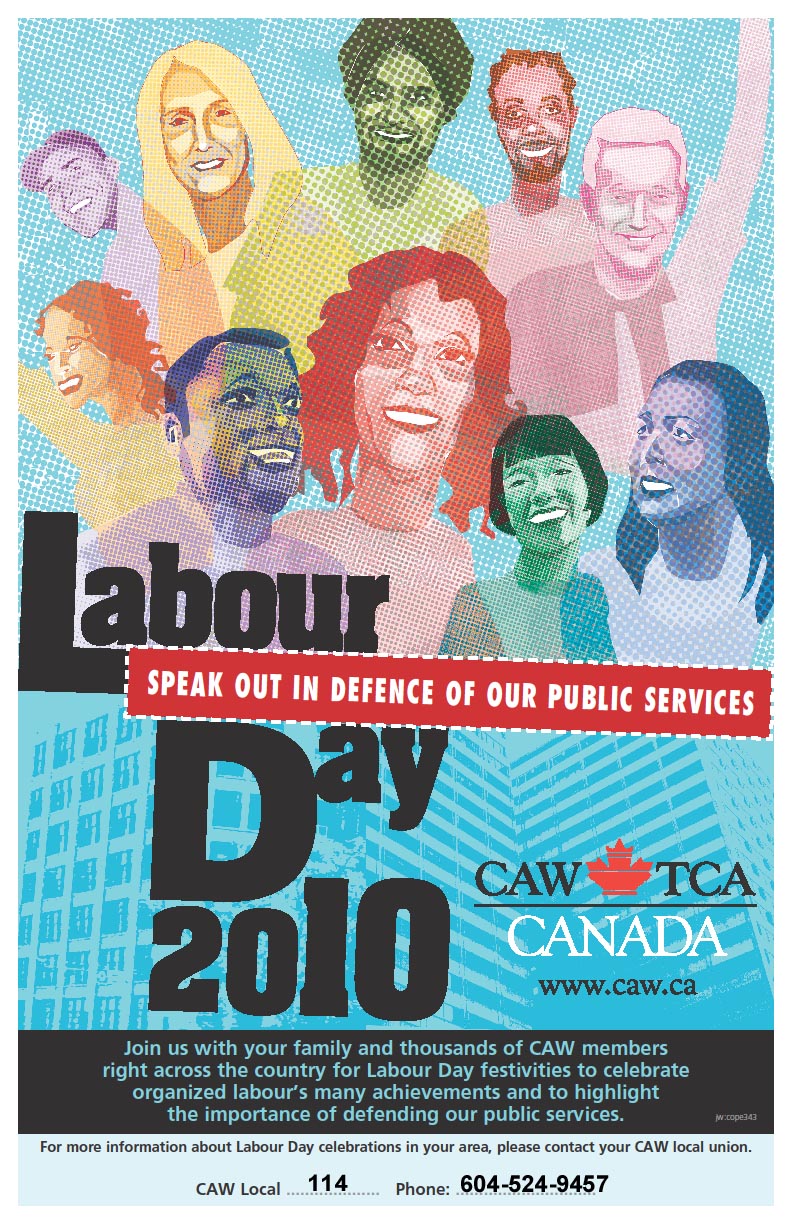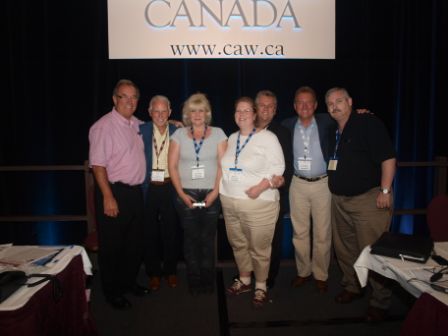 Local 114 Wins 2 CALM Awards!!!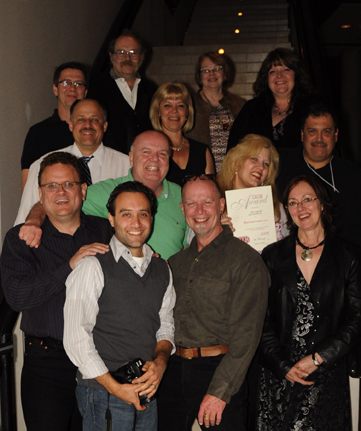 Jim Sadlemyer(far left 2nd row from back) poses with other CAW communicators in Windsor Ontario shortly after CAW Local 114 won two awards from The Canadian Association of Labour Media. One was for the "Live Long and Prosper, Unionize." t-shirts and the other was for the 101 Easy Ways to be a Labour Activist ebook. For more on the awards Click Here.
New CAW - VIA Rail Agreement Receives Full Support of Workplace Leaders
June 28, 2010
(Montreal) CAW- VIA Rail workplace leaders from across the country have voted unanimously in support of recommending the new collective agreement for ratification, at a meeting held today in Montreal.
The approximately 50 elected workplace representatives had the opportunity to review the contents of the agreement and will now recommend it for approval at the ratification meetings that kick off across the country on Monday, July 5.
The CAW reached the new tentative agreement with VIA Rail late Saturday, June 26, averting a possible strike. Details of the agreement will be released following ratification.
For more information, please contact Assistant to CAW National President Bob Chernecki (cell) 416-543-7084
Agreement at BC Transit in Victoria June 25, 2010, 11:44 AM EST
CAW Local 333 members who work at B.C. Transit in Victoria, British Columbia have ratified a new two-year agreement.
The new contract covers 680 transit operators and skilled trades workers and expires March 31, 2012. It resists concession demands and provides benefit gains, while eliminating a tier in the wage schedule, now ensuring that after two years everyone is at the top rate.
This round of bargaining occurred in a particularly tough environment with the provincial Liberal government mandating a zero cost agreement over two years.
"It is very disappointing that the right to free collective bargaining was denied by this legislation," said CAW BC Area Director Susan Spratt said. "Some of our members made gains at the expense of others. I'm very proud of our members who sacrificed to give newer members of our union a wage increase to get them to a living wage in Victoria."
"We truly hope that in the next agreement transit workers can be recognized for the service they provide to the public in Victoria and we can move forward," Spratt said.
Port Stability at Issue as CAW Local 2006 Heads into Negotiations
June 25, 2010, 12:00 PM EST
The Vancouver Container Truckers Association / VCTA-CAW Local 2006 served notice to bargain today to over a dozen separate companies engaged in moving containers to and from the various lower mainland ports.
Port Metro Vancouver terminals (PMV or 'Ports') saw a massive withdrawal of service by 1200 owner operators in 2005 to protest working conditions and a race to the bottom on rates. The dispute disrupted port operations and cost the provincial and national economies hundreds of millions of dollars.
As a result, the federal government amended the Port Authorities Operations Regulations to set up a licensing system with benchmark and minimum rates for applicable owner operators. The B.C. Ministry of Transportation and Infrastructure also set up a program to investigate and make recommendations to PMV to enforce the correct rates. PMV can sanction, suspend, or cancel the licenses of offenders.
"It seems the Ports aren't that interested in rate enforcement as they won't name companies with suspended or cancelled licenses" said CAW National Representative Gavin McGarrigle.
B.C. Labour Minister Murray Coell expressed concerns about the lack of timely action on the Ministry of Transportation recommendations in a letter sent to PMV on June 3, 2010 (copies available upon request): "Since December 2007, approximately $645,765 has been collected on behalf of 351 owner-operators". Minister Coell added "If actions are not taken on offenders swiftly, I believe the effectiveness of the program will be seriously undermined."
"The Ports need to be ordered to do a better and more transparent job of rate enforcement. The Port regulations need to be changed to provide for true stability instead of the fake appearance of stability that we are left with today," said McGarrigle.
"If the federal government doesn't make these changes soon, the bargaining environment will be difficult and the current rate system at the Ports could fall apart leading to massive instability - this is an outcome that nobody wants to see, especially our members," McGarrigle added.
"We can't have stability at the Ports with an increasing number of unscrupulous container truck companies competing in a race to the bottom," said VCTA-CAW Local 2006 President Paul Johal.
The VCTA-CAW Local 2006 collective agreements expire in 6 days on June 30, 2010. No dates for collective bargaining have yet been set.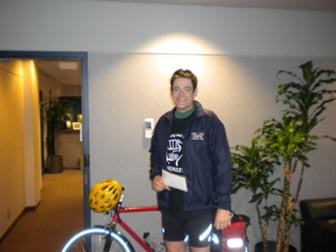 The ride to Conquer Cancer benefiting BC Cancer Foundation is a chance to discover what it means to be a hero. During one amazing weekend, June 19-20, 2010, thousands of men and women will prove that there is strength in numbers. They will join forces to cycle from Vancouver to Seattle in two days and make a real difference in the fight to conquer cancer. The net proceeds will benefit BC Cancer Foundation, a leader in this critical cause.
Mr. Will R Heller (One of our CAW members at TST Overload Express), Participant number 241056-4 is a registered participant in the Ride to Conquer cancer and has committed to cycle over the course of two days and raise a minimum of $2,500 to aid in this ongoing fight. Please support Will's fundraising activities in the community and his heroic commitment to the cause. Please Click Here and donate to help Will.
Brother Ken Lewenza's letter to Jason Kenny, Immigration Minister, regarding Bill C-11- the Refugee Reform Act.- on April 15, 2010 Click Here
Now because of the pressure the Harper Government has been put under, instead of trying to fast track the bill - they're going to take a step back to ensure they get it right.
This is definitely a very good news. It shows that the stand we took at CAW Council through Ken Lewenza's recommendation and his letter demanding public hearings, actually worked.
Our work is not yet done. We need to keep up the pressure to let the members of Parliament know that we demand a fair refugee determination process. Please, email your Member of Parliament, and let them know you want to see Bill C-11, the Refugee Reform Act., fixed. Let them know that no country is truly safe from persecution, and that all those who seek protection in Canada should be treated equally, regardless of their country of origin.
To find your MP please CLICK HERE
In solidarity,
Vinay Sharma
Director, Human Rights Department
Canadian Auto Workers
416-718-8469
1-800-268-5763 Ext. 8469
http://www.caw.ca/en/services-departments-human-rights.htm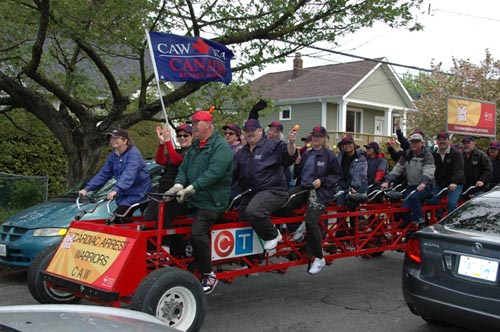 The CAW put in a team of bike rides in the annual Big Bike Heart & Stroke Fund raiser.
Local 114 had Nathalie Pretty, Lynsi Bicknell, Gord McGrath and Bill Gaucher participating.
The CAW Bike Team raised over $3,000.00 (Bill Gaucher had the highest donations from our CAW team $610.00).
The current version of the recipes ebook, Recipes for Solidarity is 1.3e and can be downloaded for free by clicking the cover on the right hand side of this page.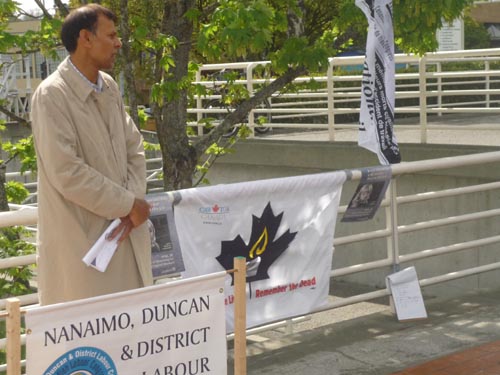 April 30, 2010 Hussan Yussaff, the Secretary Treasurer for the Canadian Labour Congress spoke at the Day of Mourning in Nanaimo. Click Here for the story.


Jim Sadlemyer stands alongside former Labour Minister Dale Lovick in support of laid off HEU members at an information line April 20th in Ladysmith B.C.
Proposed Reforms to the Refugee Determination Process (Bill C-11)
Stand Up! BUILD A BETTER BC RALLY APRIL 10TH
April 1, 2010 Good News at Cascade Aerospace
CAW Helps feed the hungry in Kamloops

General Meeting Saturday March 13th 9:30 a.m. at the CAW Hall 326-12th Street New Westminster. Please bring a non-perishable food item.
March 3, 2010
Pre-Budget release: CAW Calls for Job Investments and Income Supports for Unemployed and Pensioners
Women's Day Poster and information
Executive Member Gets Letter to Editor Published
Wild Salmon Rally February 20th.
February 9, 2010 Action for Iran
何新年庆祝活动取得圆满成功
Chinese New year Celebrations a Great Success
Annual Women's Memorial March, DTES Vancouver, Feb 14, 2010
CAW 114 Represented at Joseph Mairs Memorial in Ladysmith.
February 4, 2009 Local 114 Leader Believes in Giving Back to Community.
CAW President Ken Lewenza commended the federal government for its attention to the issue of retirement security, through the public consultations, but urged the government to add more consultation locations to the agenda. "The federal government is clearly hearing Canadians say that we need pension reform," said Lewenza.
"Up to 72 per cent of employed Canadians do not have a workplace pension plan, and as many as 70 per cent do not have RRSPs - this points to a very obvious shortcoming in the retirement system which leaves people to fend for themselves in their senior years. The CPP is the one plan that most Canadians do have and it must be strengthened."
As you well know, on March 24th, The Minister of Finance, Jim Flaherty announced there would be coast to coast consultations on Canada's Retirement Security system.
The one for Western Canada will be on May 3, 2010 in Richmond. The one for Quebec City, is still to be announced.
Mr. Flaherty said, "Canadians work hard to realize their retirement dreams" and "Our government will be giving Canadians an unprecedented opportunity to provide direct input on the future security and soundness of Canada's retirement income system".
But keep in mind that labour's Plan for Retirement Security has three simple steps; so no one has to worry about retiring into poverty:
The first is to lift all seniors out of poverty through a 15% increase in the GIS benefit.
The second is to phase in, over 7 years, a plan to double the CPP benefits that would cover all Canadians and provide them with guaranteed retirement security.
The final step is to put in place a system of pension insurance for plans represented by employers who face bankruptcy.
For more information, please go to:http://www.caw.ca/en/7978.htm or http://www.canadianlabour.ca/action-center/retirement-security-for-everyone
The meeting with Jim Flaherty, Minister of Finance, regarding the Pension Town Hall Meetings. Please make every effort to attend.
Flaherty Consultation — Pension Town Hall Meeting
Richmond BC
Monday, May 3, 2010 (7 p.m. - 9 p.m.)
Sheraton Vancouver Airport Hotel
Minoru Room A/B
7551 Westminster Highway
Richmond, BC



January 31, 2010 Local 114 Supports Variety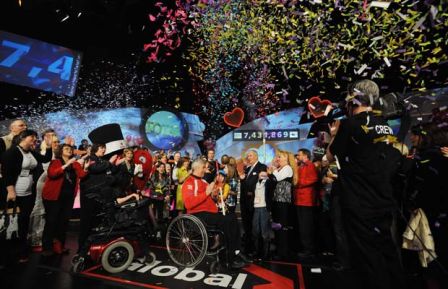 Over $7.4 million dollars was raised for the children of BC. Thanks to Harry Moon, Cynthia and Allura Anderson, Bill Gaucher, Mike Gaucher, Lynsi Bicknell and Darcy Suehn for helping out on the phones on Sunday. Darcy Suehn and Eric Phillips also presented the Local's cheque of $5,000.00 on air Saturday evening during the telethon. Great job everyone, the CAW and our family of members really came through again this year.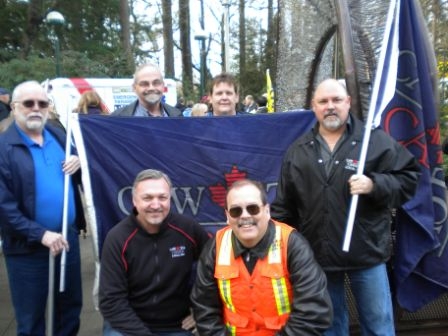 January 27, 2009 CAW Local 114 Supports Ambulance Paramedics at a Rally held January 27 at Outside Burnaby City Hall. Representing CAW Local 114 was Gord McGrath, Gord Piper, Harry Moon, Linda Jensen, Mark Misic, Tom Hockley and Bill Gaucher. Click Here for Story.Click Here for more photos!
January 26, 2010 Education Shouldn't be Debt Sentence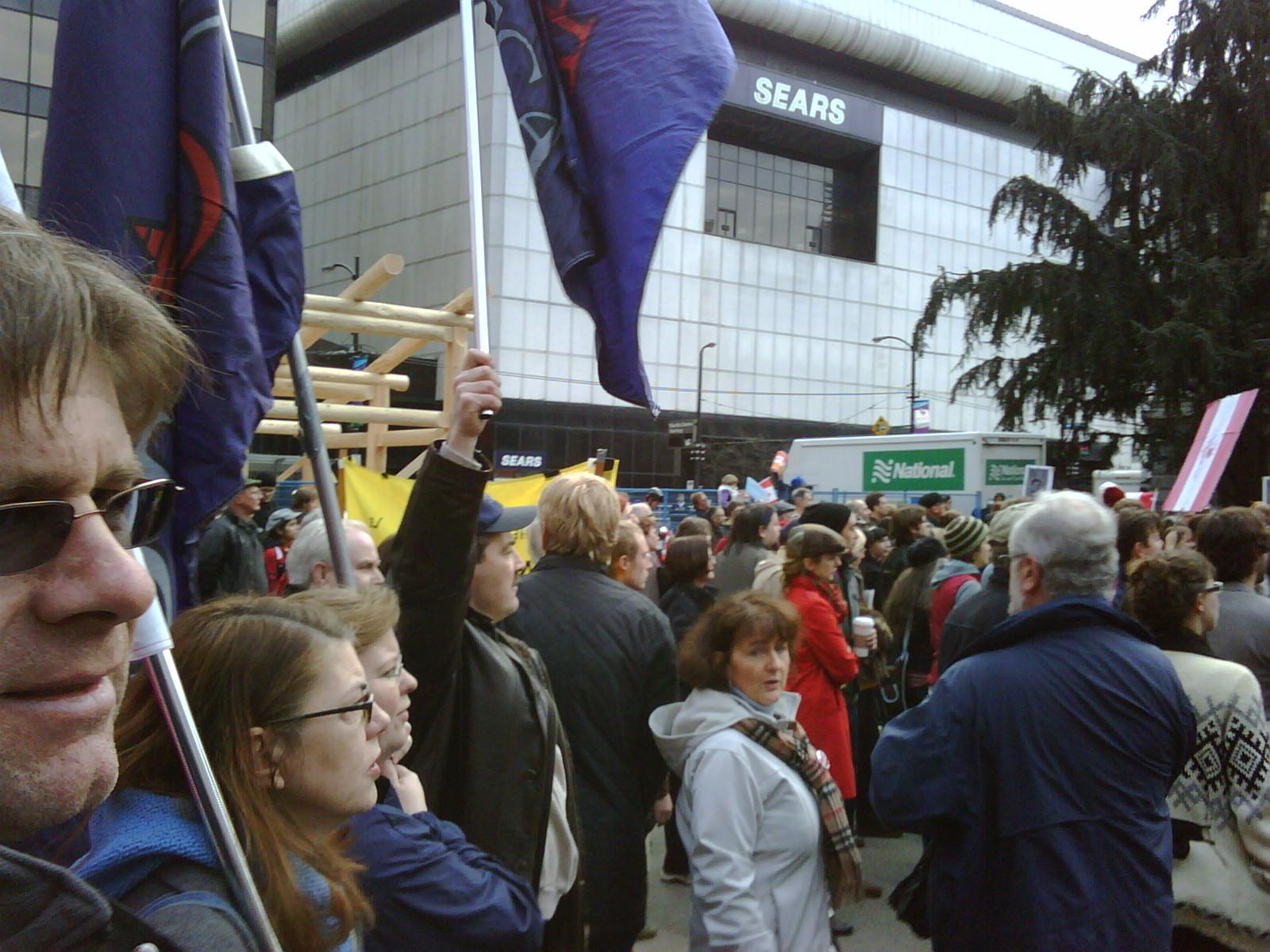 The Anti-Proroguing of Parliament Rally was held in Vancouver Saturday January 23, 2010 as part of a Nation-wide protest against the Prorogation of Parliament by Stephen Harper. CAW Local 114 was represented by Barbie Zipp and Jim Sadlemyer from Vancouver Island and Darcy Suehn from the Lower Mainland as well as a number of National Reps and reitrees. To see more photos from this event, click on the picture above.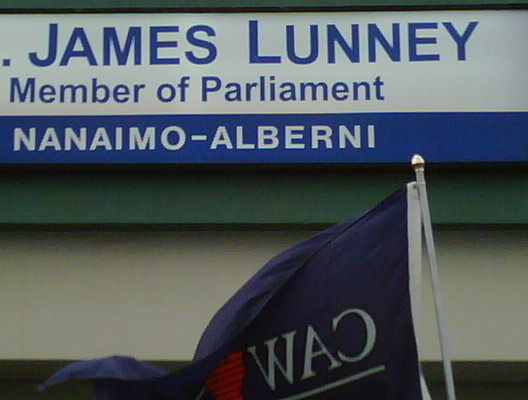 There was a similar rally in Nanaimo January 25th, 2010 in front of the offices of Conservative MP James Lunney.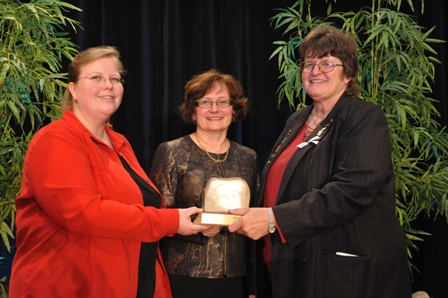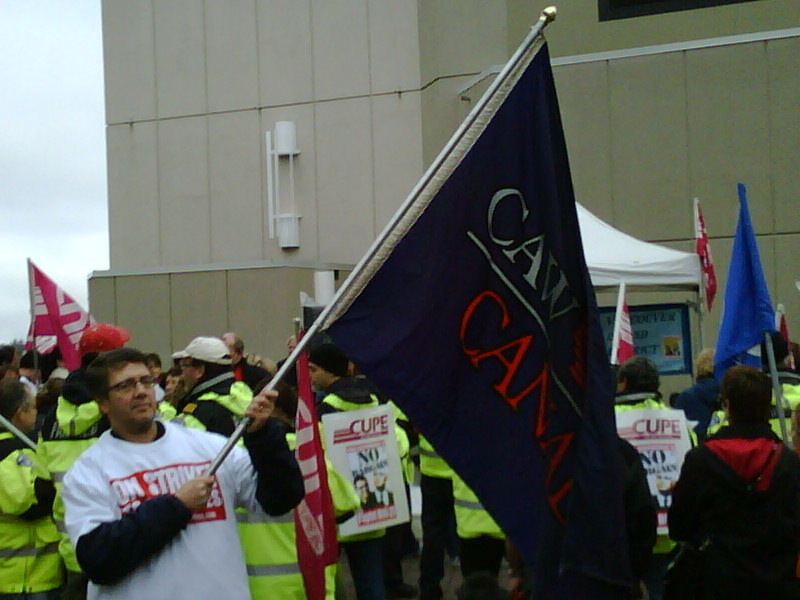 Vancouver Island Member at Large Jim Sadlemyer represented CAW Local 114 at a recent Bill 21 protest rally in downtown Nanaimo.
January 9, 2009 CAW 114 Contributes to Longstanding Event in Victoria.

December 16, 2009 CAW to Represent Gibraltar Mine Workers
CAW Contact Volume 39, No. 43 – December 11, 2009

November 19, 2009 Kamloops Bus in Crisis
Bill Gaucher Wins Prestiogus Joe Morris Award. Accepting on his behalf are Jayne Pedersen and Barbie Zipp. To read the story, Click Here.

December 21, 2009 CAW Gives Back to the Community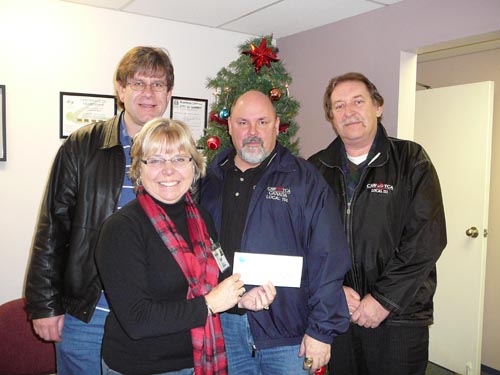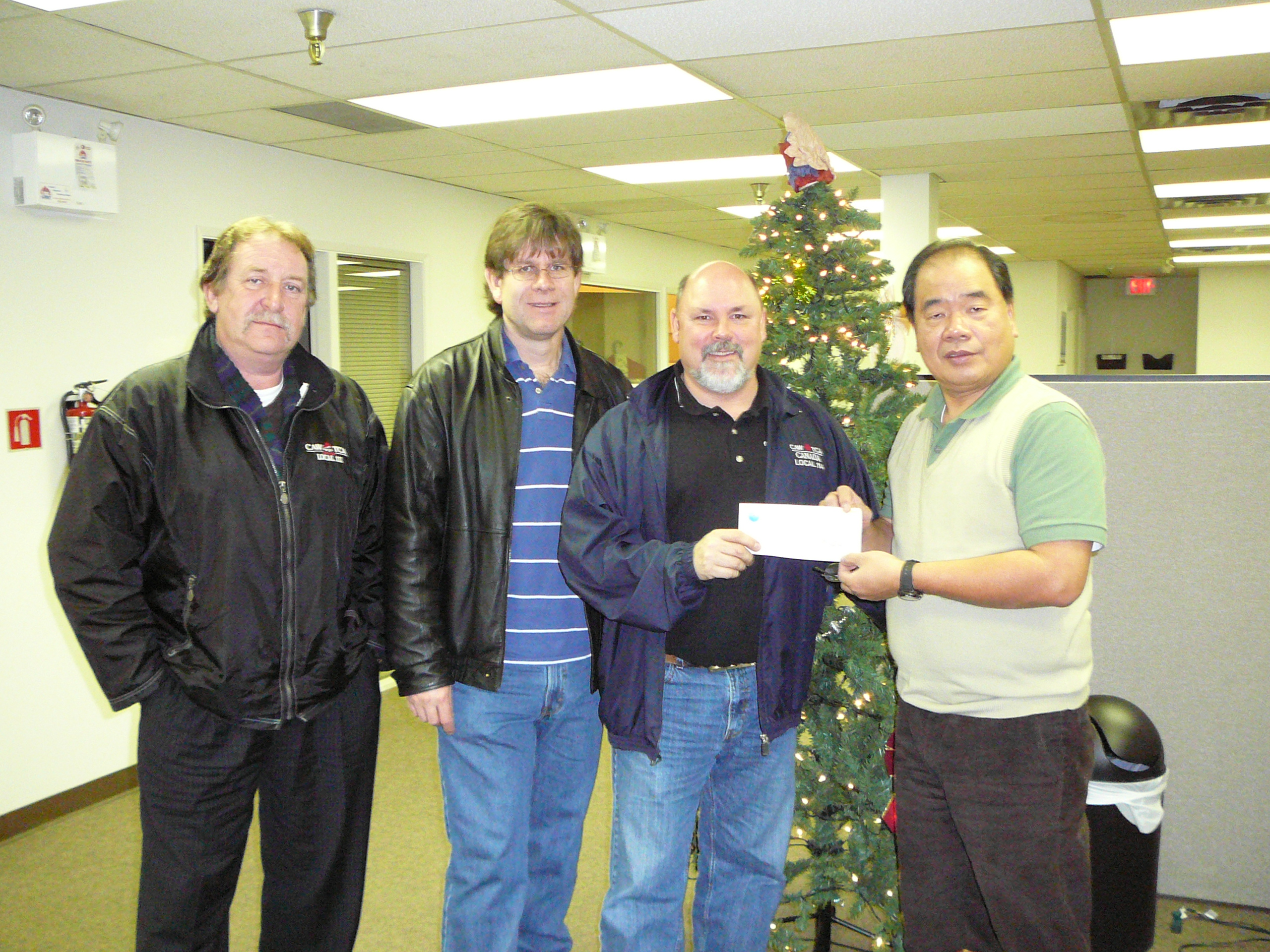 Above are photos from the Surrey and Vancouver food banks, they received $5,000.00 each from the Nationals Social Justice fund. There is Murray Gore from the National Office (Organizer), Don MacLeod (President Local 111 Bus Drivers, Coast Mountain), Gord McGrath (President Local 114), in total there were approximately $130,000.00 donated to food banks across Canada from this National Fund.
**September 30, 2009** - TRANSLATORS WANTED CAW Local 114 is currently seeking members who are fluent in two or more languages for the purpose of translating oral, written or both. If you are interested, please contact the Local President, Gord McGrath here or Secretary Treasurer Bill Gaucher here.
CAW Open House this Friday December 11th. Starts at 5pm at the hall.

November 30, 2009 Pacific Coach Line Workers Vote 91% in Favour of Strike Action

November 27, 2009Montréal Massacre Memorial Event - Vancouver Dec. 5
November 23, 2009Canadian Labour International Film Festival November 28-29.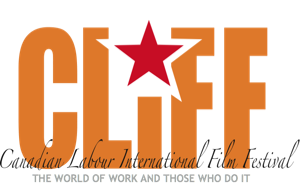 November 23, 2009 Rally to Fight Bill 21 in Nanaimo this Saturday

Local Rep Gord Piper Wins Bud Jimmerfield Award. To view pictures of the event click here
To find out more about the award, click here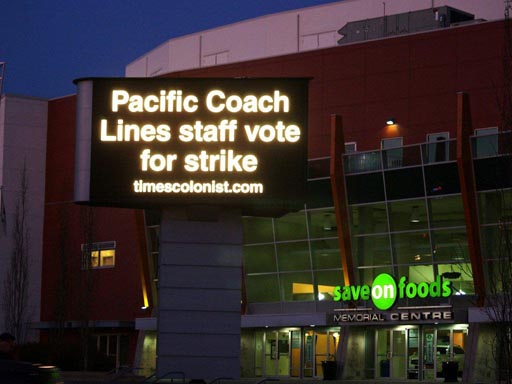 This appeared on the Save on Foods Memorial Center electronic sign December 1, 2009.

October 22, 2009 Children's Festival Cancelled
October 20, 2009 Sears Closes Call Center Moves Jobs to Phillipines
October 8, 2009 Child Labour Injuries Skyrocket
October 8, 2009 Former B.C. Health Officials named in probe of fraud, breach of trust
October 8, 2009 Nanaimo Departure Bay - Horshoe Bay Trips Cut
A Shop Steward in Trouble - Support Streams In!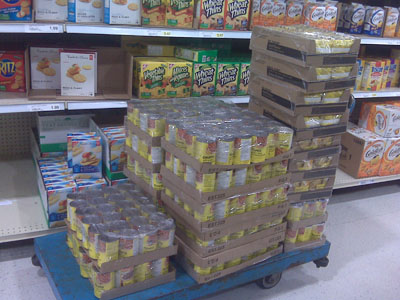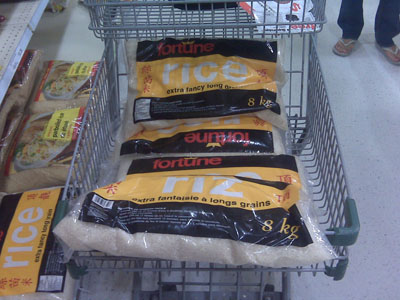 When Avil's from Prepac heard about our foodbank drive, the decision was made to get employees to donate $5.00 each. $300.00 later and a trip to the grocery store with local Rep Cynthia Anderson resulted in the pictures above. Great work to all involved at Prepac, thank you brothers and sisters! To find more about the foodbank drive click here.
Peggy Nash Elected National New Democrat President


Take Action Now to Support Striking Zellers Workers!
Premiers Must Reject Federal Proposals That Would Deepen NAFTA, CAW President Says
CAW PRESIDENT KEN LEWENZA, SECRETARY TREASURER JIM O'NEIL AND ASSISTANT TO THE PRESIDENT, PETER KENNEDY VISITs B.C MEETING WITH THE LOCAL LEADERSHIP, TOURING UNITS AND CAPPING OFF WITH A BBQ Click Here
West Van Police Officer Pleads Guilty to Assaulting CAW 114 Member
On Thursday, July 30, CAW President Ken Lewenza will be in the New Westminster office to meet with the leadership of the Lower Mainland and Vancouver Island locals. Secretary Treasurer Jim O'Neil and Assistant to the President, Peter Kennedy are also making the trip. Click Here
CAW Reaches Tentative Agreement with Bombardier


Strike Deadline Looms at Bombardier de Havilland


The Protein for People Project held their BBQ June 18. Click Here for the pictures.
Harry Moon Celebrates 20 Years!


George Brown - Merl Rodocker Memorial Bursaries
Human Rights First! Stop Canada-Colombia Free Trade
George Brown - Merl Rodocker Memorial Bursaries
Next Union Meeting June 20th Nanaimo. Click Here
3 Day Grievance Handling Course pictures. Click Here
BBQ Pictures. Click Here

Unemployment Insurance

Taxi Driver Attacked by Off Duty Police

Made in Canada Matters

CAW Donates