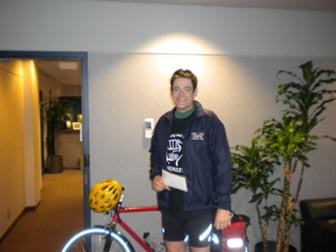 The ride to Conquer Cancer benefiting BC Cancer Foundation is a chance to discover what it means to be a hero. During one amazing weekend, June 19-20, 2010, thousands of men and women will prove that there strength in numbers. They will join forces to cycle from Vancouver to Seattle in two days and make a real difference in the fight to conquer cancer. The net proceeds will benefit BC Cancer Foundation, a leader in this critical cause.
Mr. Will R Heller (One of our CAW members at TST Overload Express), Participant number 241056-4 is a registered participant in the Ride to Conquer cancer and has committed to cycle over the course of two days and raise a minimum of $2,500 to aid in this ongoing fight. Please support Will's fundraising activities in the community and his heroic commitment to the cause. Please Click Here and donate to help Will.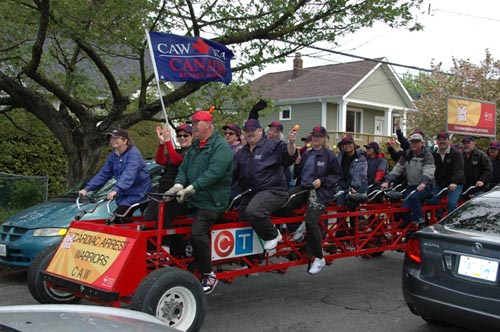 The CAW put in a team of bike rides in the annual Big Bike Heart & Stroke Fund raiser.
Local 114 had Nathalie Pretty, Lynsi Bicknell, Gord McGrath and Bill Gaucher participating.
The CAW Bike Team raised over $3,000.00 (Bill Gaucher had the highest donations from our CAW team $610.00).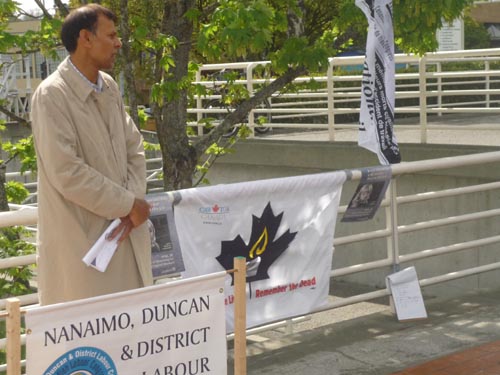 April 30, 2010 Hussan Yussaff, the Secretary Treasurer for the Canadian Labour Congress spoke at the Day of Mourning in Nanaimo. Click Here for the story.


Jim Sadlemyer stands alongside former Labour Minister Dale Lovick in support of laid off HEU members at an information line April 20th in Ladysmith B.C.
Proposed Reforms to the Refugee Determination Process (Bill C-11)

The current version of the recipes ebook, Recipes for Solidarity is 1.3e and can be downloaded for free by clicking the cover on the right hand side of this page.





























Local 114 Wins 2 CALM Awards!!!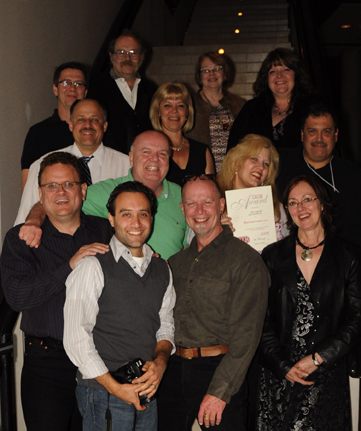 Jim Sadlemyer(far left 2nd row from back) poses with other CAW communicators in Windsor Ontario shortly after winning two awards from The Canadian Association of Labour Media. One was for the "Live Long and Prosper, Unionize." t-shirts and the other was for the 101 Easy Ways to be a Labour Activist ebook. For more on the awards Click Here.