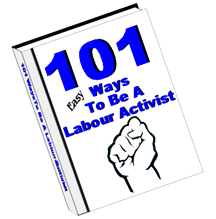 Purchase
Purchasing a copy with your union and or local information on the bottom of each page will cost you $9.95. If you wish to include pictures and bios of activists or leaders within your union or local the charge is an additional $5.00 per picture. You can order up to 3 to be included in your version. You can also add up to 2 labour martyrs in your area for no extra fee when purchasing the 3 leaders option.
Please include what you would like on the bottom of each page, including the URL if desired.
After you make your payment, you can email your bios and pictures to:
Please use head and shoulder shots. Pictures should be in jpg format and no bigger than 100 x 150 pixels.
We reserve the right to limit sales to only locals with unions recognized by the Canadian Labour Congress or other mitigating factors that we deem appropriate.
Proceeds from sales will currently go to local area labour councils.
***Windows is Required to View the eBook***
Once your ebook is ready it will be hosted online for short time for you to download. You will be contacted by email when it is ready.