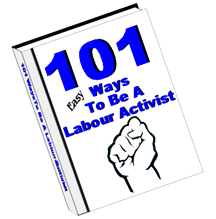 Thanks for Your Purchase
Please send an email to jsadlemyer@hotmail.com with what you would like to appear on the bottom of each page. Be sure to include a URL if you wish your readers to be able to visit your union website.
If your purchase includes inserting pictures and bios, please send those to the same email address. Pictures need to be in JPEG format and should be no bigger than 100 pixels wide and 150 pixels high. If you are having trouble with this, email us.
We reserve the right to limit sales to only locals with unions recognized by the Canadian Labour Congress. If we determine you do not qualify, your payment will be refunded.
Once your ebook is ready it will be hosted online for short time for you to download. You will be contacted by email when it is ready.